The Foundation promotes interaction activities in order to deepen ties between the Foundation and scholarship students, as well as among scholarship students, and to establish networks toward the future.
Plant Tours :
The Foundation provides tours of the Anjo Plant of INOAC Corporation as an example of Japanese manufacturing facilities.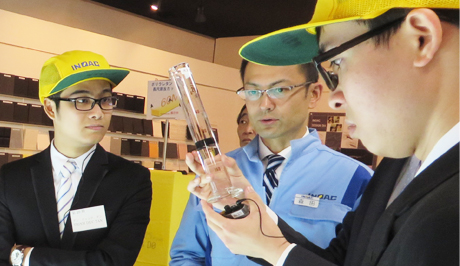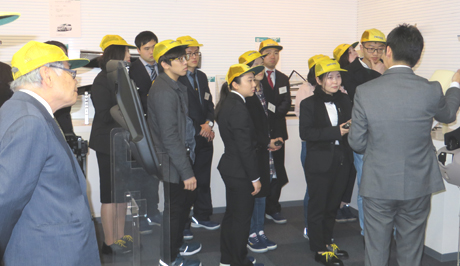 29th Term

Jiang Yuan
I participated in a tour of the Anjo Plant of INOAC Corporation, which enabled me to learn about the history of the INOAC Group and to observe a wide range of products being produced, such as soft sofas, beds, chairs and other living ware, as well as lightweight chassis for personal computers. I felt that all of these were used in our daily lives and were needed by everybody. Although in my daily life I was seldom aware of the INOAC Group as a manufacturer of car chairs, bedding, cosmetic puffs, bicycle tires, etc., the plant tour informed me that such products were actually manufactured at the plant. In addition, I watched robots being operated by PC programs at the plant. I was astonished that the motions of each robot were controlled by time calculation and x, y, z coordinates. I have studied an HSP program at graduate school, and currently use HSP for voice research. If the program is used for conducting interviews, it is possible to measure the response time that the interviewees were selecting their answers from relevant sound, also to present voice files at random.
The robot operations at the plant made me aware that the program that I had regarded so far only as a tool for my research could actually be used for a wide variety of purposes. This has made me decide to participate in a course of the program once again. I was able to learn a lot through the plant tour.
Japanese Culture Experience Meeting :
By organizing a day trip incorporating traditional Japanese experiences, the Foundation aims to foster relationships and understanding of the Foundation's directors and scholarship students.

31th Term

KAN SEGYON
I am truly grateful to the Foundation for giving me the opportunity to participate in the Japanese Culture Experience Program on June 10. Although this is my sixth year living in Japan, I haven't had many memories of experiencing traditional Japanese culture. So, I very much enjoyed the workshop for Hakone-yosegi (handcrafted mosaic wooden ware), one of Japan's cultural traditions. The feeling I got when using sandpaper and woodworking glue evoked nostalgic memories of handcrafts classes in elementary and junior high school. The marquetry coaster I made, which I took home as a souvenir, will be a precious memento of my time in Japan. The banquet room luncheon also showed me one of Japan's most typical cultural practices. The party was held in typical Japanese style, which was what I had imagined it would be, from stories about company trips my Japanese friends had told me, and scenes of dinner parties on company trips in Japanese TV dramas and films. It was really a memorable first-time experience of a Japanese-style dinner party. Legless chairs and small tray-like tables for individual diners all lined up in a row made me feel like I was looking at Japanese society as a whole. I also amused myself playing bingo held as entertainment, which was another first-time experience for me. I was even lucky enough to win a prize. During the luncheon, we had a self-introductory session for 31st term scholarship students. It was a good opportunity for us to introduce ourselves and make our faces known to those from the INOAC Foundation and other scholarship students of previous terms, with whom we slowly but surely developed a sense of camaraderie. Thanks to all the preparations and arrangements made for the program, I was able to have a great time sharing such a valuable experience with other participants. I am most grateful to the Foundation for their efforts. Thank you.

29th Term

IM JIIN
I participated in a get-together, which is summed up in the single word of "fun." I had been a little nervous before the party, but since I did not have to wear a suit as usual, but rather casual attire, I did not hesitate to enjoy talking with the directors of the Foundation and other scholarship students in a relaxed atmosphere, which I believe it is a crucial element to provide a fun.
Of particular note was the chikuwa-making experience [chikuwa are tubular rolls of boiled fish paste]. This experience was unusual for international students, and made my school friends envious of me. The INOAC International Education and Scholarship Foundation holds get-togethers more frequently than other scholarship foundations, and I feel that this is one of the great points of the Foundation. Realizing once again the excellence of the INOAC Foundation, which respects encounters and ties between people, I feel sincerely grateful that I have had the chance to meet many people in my life in Japan as an international student.
At the get-together in which I participated, some directors of the Foundation shared their memories of studying abroad, while others commented that they always continued to try something new even after their retirement from work. My conversations with such directors gave me enough courage and energy to overcome the worries that I had felt in my daily life away from my home country.
I look forward to talking with them once again in the future.
Ethnic cooking events :
Scholarship students are actively reflected and they play the major role when planning and organizing cooking event.
Research Presentations :
By presenting the results of the research they are conducting at their universities or graduate schools, scholarship students demonstrate their daily efforts.

30th Term

TANG HAOCHUN
It was a very valuable experience for me to participate in the cooking event and the meeting for research presentation. In the morning cooking event , scholarship students from various countries, including me, and directors and staff of the Foundation together cooked dishes from the students' countries. Working together, we enjoyed random conversations with each other. It was a lot of fun to have close communication in a friendly atmosphere with people from other countries with whom I rarely come in contact, and also with the staff of the Foundation. After cooking, we ate the dishes we had made, which reflected different cultures and eating habits. I had never seen such a great variety of dishes on the table all at once, and all were so delicious, too. I enjoyed both familiar and unfamiliar cuisines. I got some ideas from dishes that I would like to add to my cooking repertoire. In the research presentation session in the afternoon, scholarship students expanded academic knowledge while giving and listening to various research presentations. Although I had always used English to make presentations at university and conferences, I took on the challenge of giving my presentation in Japanese for the first time. I was a bit nervous, but in the end had a positive experience. Since the students gathering for the session came from a wide range of research fields, many of their presentation topics were new to me. Some were even beyond anything I could have imagined. Inspired by such presentations, I confirmed my determination to devote myself to my original studies.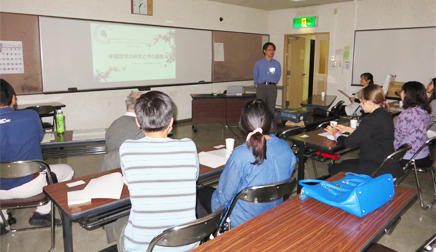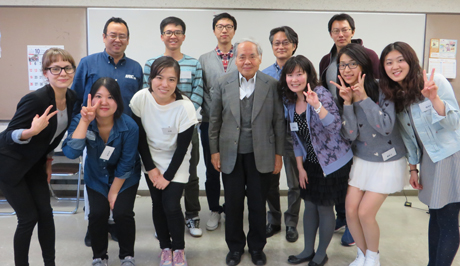 27th Term

Yang Tingting
At a research presentation, while presenting the research that I was performing at my university, I briefly explained my specialized field. The event, at which participants asked each other many questions and exchanged related information, served as a good opportunity to have enjoyable discussions and share knowledge regardless of their specialized fields.
The research presentation has made me aware of once again that there are no borders in terms of knowledge.
As a university student of sociology, I always try to observe both ordinary and extraordinary phenomena, thereby identifying and solving problems. When trying to identify problems, however, if I conduct research with a single focus on the identification of problems, I face the risk of overly narrowing my perspective. When I was in the third-year, I made a social survey on elderly people's awareness of death. Since death is quite a taboo subject, it was difficult for me to ask them about this. In addition to this, there were many other difficulties regarding this project, making me hesitate to select a survey of elderly people as the main part of my graduate thesis. After attending the research presentation of the INOAC Foundation, however, I felt more confident in pursuing this theme without any hesitation. This was thanks to the positive effects of other scholarship students of the Foundation. For example, one such student is researching how to form a chemical element that has never existed before. Since he is trying to create a production method that nobody knows, there are no reference materials for him and there are so many things that he cannot understand. Nevertheless, he says that he is carrying out experiments in a laboratory almost every day. I am deeply impressed by his courage and fortitude. Like him, I now also believe that if I do not give up, I will be able to achieve great results.