The Foundation promotes interaction activities in order to deepen ties between the Foundation and scholarship students, as well as among scholarship students, and to establish networks toward the future.
Certificate Award Ceremony&Lunch Meeting :

We have welcoming newly certified scholarship students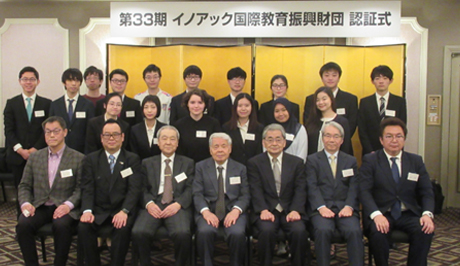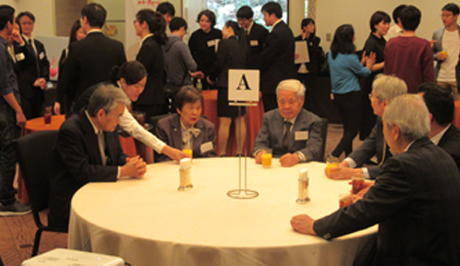 33th Term scholarship student

Yue Qilin
On March 22, I participated in the scholarship award ceremony of the INOAC International Education and Scholarship Foundation as a 33rd term scholarship student . With excitement and gratitude, I received a certificate from the Managing Director. I am very thankful to have been selected as a 33rd term INOAC scholarship student along with all the other excellent awardees. I feel privileged to be selected.

Immediately after the award ceremony, we had a social gathering and a party with former awardees. I talked with my seniors and other 33rd term scholarship students while having a meal. I met many people and learned various things. It was really fun to talk and interact with people majoring in different fields. In a friendly atmosphere, the participants introduced themselves in turn. I instantly felt relaxed with them and had a very good time.

Needless to say, I applied for the INOAC scholarship with my aspirations and ideals for the future. Enrolling in the fall, I studied as a first-year master's student in the Department of Advanced Energy Engineering Science, Kyushu University. Before enrolling, I felt much interest in the global energy issues. Therefore, I chose this major to join a laboratory related to nuclear fusion. Six months have passed, and, under the guidance of my teachers, I have become more interested in nuclear fusion, namely, the energy of the future. I am very much looking forward to obtaining the results of my experiments this spring. Not to mention earning a Ph.D., I would like to continue my research on issues related to nuclear fusion into the future to contribute to this society and this world. Expecting an ideal, clearer energy, I desperately want to see the achievement of nuclear fusion with my own eyes.



32th Term scholarship student

WEI YANING
Please allow me first to express my deep gratitude to all of you at INOAC International Education and Scholarship Foundation who have planned and organized the Scholarship Award Ceremony, a get-together, and the plant tour amid busy schedules. Through the activities this time, I have been able to deepen my understanding of both the INOAC Foundation and INOAC Corporation, and to communicate and connect with the staff at the Foundation who have provided me with support and the INOAC scholarship students who are studying hard at different universities and in diverse research fields; it was an extremely precious and meaningful experience for me. Described below are the thoughts I obtained as the result of participating in the Scholarship Award Ceremony this time:

First of all, through this event, I have become more knowledgeable about INOAC Corporation and INAC International Education and Scholarship Foundation. Last year, when I applied for the INOAC scholarship, I did some personal research on the Foundation and INOAC Corporation and learned that INOAC Group is involved in the automotive parts manufacturing business. However, I was not yet very familiar with the details of INOAC Corporation. Through the plant tour this time, I have been able to develop a wider recognition and understanding of the company by listening to the explanation about the company's products and by actually observing the production processes performed on its manufacturing floor. Previously, I only had had an image of INOAC Corporation manufacturing car-related parts, yet this tour has taught me that the Corporation has been developing not just auto parts but a broader range of products that include rubber products and those items often used in everyday life such as masks, sponges, pillows, sofas, and shoes. I was surprised at how broad the company's business operations are and how close its products are to my everyday life. I have begun to keenly feel very close to the products of INOAC Corporation that are already present near me and are supporting me in my daily life.

Furthermore, the opportunity to mingle with others provided at this time's get-together party has allowed me to communicate closely with the members of the Foundation and international scholarship students from different universities. At this get-together, I not only spoke with staff at the Foundation about my current academic situation and each other's home cultures but also had a chance to ask them about what activities they had previously performed to promote friendly exchanges between China and Japan. Too bad I was not able to talk to every participant of the party due to the limited time available, and yet I deeply wish to have a valuable opportunity of exchange like this in the future again. Lastly, a huge thanks to all of you at the Foundation. I very much look forward to seeing you at the next event.
Plant Tours :
The Foundation provides tours of the Anjo Plant of INOAC Corporation as an example of Japanese manufacturing facilities.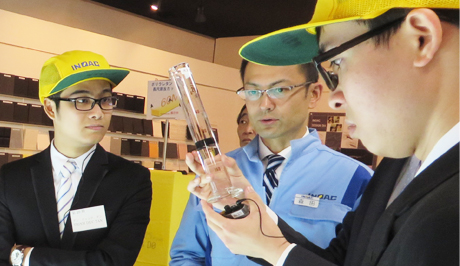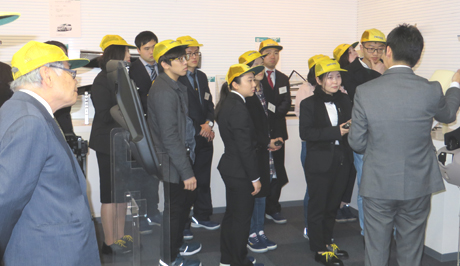 29th Term

Jiang Yuan
I participated in a tour of the Anjo Plant of INOAC Corporation, which enabled me to learn about the history of the INOAC Group and to observe a wide range of products being produced, such as soft sofas, beds, chairs and other living ware, as well as lightweight chassis for personal computers. I felt that all of these were used in our daily lives and were needed by everybody. Although in my daily life I was seldom aware of the INOAC Group as a manufacturer of car chairs, bedding, cosmetic puffs, bicycle tires, etc., the plant tour informed me that such products were actually manufactured at the plant. In addition, I watched robots being operated by PC programs at the plant.
I was astonished that the motions of each robot were controlled by time calculation and x, y, z coordinates. I have studied an HSP program at graduate school, and currently use HSP for voice research. If the program is used for conducting interviews, it is possible to measure the response time that the interviewees were selecting their answers from relevant sound, also to present voice files at random.

The robot operations at the plant made me aware that the program that I had regarded so far only as a tool for my research could actually be used for a wide variety of purposes. This has made me decide to participate in a course of the program once again. I was able to learn a lot through the plant tour.
Japanese Culture Experience Meeting :
By organizing a day trip incorporating traditional Japanese experiences, the Foundation aims to foster relationships and understanding of the Foundation's directors and scholarship students.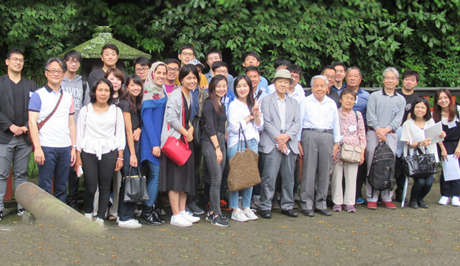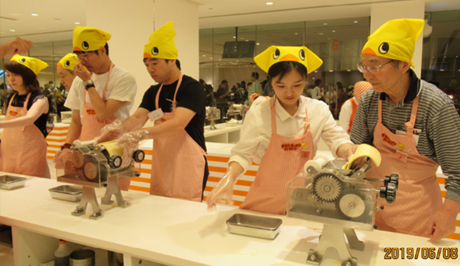 33th Term scholarship student

Kota Nakasato
I am Kota Nakasato, a 33rd term scholarship student. First of all, I would like to express my sincere gratitude to the secretariat of the INOAC International Education and Scholarship Foundation for holding such a wonderful meeting. Thank you for providing valuable opportunities to have unusual experiences, enjoy delicious meals and establish connections with new people.

Born and raised in a suburb of Tokyo, I had nothing to do with the towns of Kamakura and Yokohama. This was my second visit to Tsurugaoka Hachimangu Shrine, and my first visit to the CUPNOODLES Museum, which offered me novel experiences.

The most impressive part of the day was the self-introduction presentation by the 33rd term scholarship students. Catching a glimpse of the lives of the awardees who have been working toward their ambitions and dreams single-heartedly with enjoyment, I have become more motivated to study abroad and carry on my research. Meanwhile, specific advice on studying in the United States from the directors, the secretariat and former awardees of the scholarship and their stirring remarks increased my determination still further. I also found pleasure in making friends with other scholarship students in my free time. Let's keep in touch with each other!

My study in the United States will start in about a month. I will to do my best to achieve my goals and dreams just as with former awardees of the INOAC Scholarship and the other 33rd term scholarship students. I am looking forward to seeing you again when I return to Japan. Thank you very much in advance for your continued support.



30th Term scholarship student

HUANG YICONG
I would like to express my heartfelt thanks to all of you at the INOAC Foundation for giving me a chance to take part in the field trip to Shiga Prefecture to experience Japanese culture. I am very happy that as a former recipient of your scholarship, I was able to meet the Board of Directors, members of the Secretariat, and other scholarship awardees after a long time. Through the field trip this time, we experienced glass sandblasting in the morning, enjoyed the townscape in Kurokabe Square firsthand, and looked around Hikone Castle, an important historic site, in the end. It was a truly fruitful day.

I gained various practical experiences and learned a lot through this field trip. Particularly, I was impressed with glass sandblasting. I previously had heard that anyone could easily perform sandblasting on glass with a cutter knife, paper and a marker pen. However, maybe because of being an absolute beginner at this, I spent too much time on a painting process at first, and thus, could not create a product that I had wished to make within the time limit. I could say, though, that even this failure was a good learning experience for me. More than anything else, I thought that it is important to experience things firsthand and to learn from them.

Sightseeing at Hikone Castle helped me so much in understanding Japanese history as well. Hikone Castle is famous for being a castle built for the Ii family, which was spotlighted in "Onna Joushu Naotora (Naotora: The Lady Warlord)," the year-long TV drama series made by NHK, and has been much talked about. When I went up to the tenshu, the main keep, I was highly astonished by the magnitude of the entire castle complex. I was also stunned by the skillfulness of the design of the whole structure and ingenuity of the gun-loop locations. I was touched once again by the wisdom of earlier generations. Taking a commemorative photo with Hikonyan (a mascot created by the city government of Hikone) and other participants was quite a memorable experience for me.

The event this time has enabled me to build ties with various other people, including the 32nd term INOAC scholarship students, and then to enlarge my circle of acquaintance; I am very pleased with that. As an ex-recipient of an INOAC scholarship, I am praying for the future success of all the current scholarship awardees.

31th Term

KAN SEGYON
I am truly grateful to the Foundation for giving me the opportunity to participate in the Japanese Culture Experience Program on June 10. Although this is my sixth year living in Japan, I haven't had many memories of experiencing traditional Japanese culture. So, I very much enjoyed the workshop for Hakone-yosegi (handcrafted mosaic wooden ware), one of Japan's cultural traditions. The feeling I got when using sandpaper and woodworking glue evoked nostalgic memories of handcrafts classes in elementary and junior high school. The marquetry coaster I made, which I took home as a souvenir, will be a precious memento of my time in Japan.

The banquet room luncheon also showed me one of Japan's most typical cultural practices. The party was held in typical Japanese style, which was what I had imagined it would be, from stories about company trips my Japanese friends had told me, and scenes of dinner parties on company trips in Japanese TV dramas and films. It was really a memorable first-time experience of a Japanese-style dinner party. Legless chairs and small tray-like tables for individual diners all lined up in a row made me feel like I was looking at Japanese society as a whole.

I also amused myself playing bingo held as entertainment, which was another first-time experience for me. I was even lucky enough to win a prize.
During the luncheon, we had a self-introductory session for 31st term scholarship students. It was a good opportunity for us to introduce ourselves and make our faces known to those from the INOAC Foundation and other scholarship students of previous terms, with whom we slowly but surely developed a sense of camaraderie.

Thanks to all the preparations and arrangements made for the program, I was able to have a great time sharing such a valuable experience with other participants. I am most grateful to the Foundation for their efforts. Thank you.

29th Term

IM JIIN
I participated in a get-together, which is summed up in the single word of "fun." I had been a little nervous before the party, but since I did not have to wear a suit as usual, but rather casual attire, I did not hesitate to enjoy talking with the directors of the Foundation and other scholarship students in a relaxed atmosphere, which I believe it is a crucial element to provide a fun.

Of particular note was the chikuwa-making experience [chikuwa are tubular rolls of boiled fish paste]. This experience was unusual for international students, and made my school friends envious of me. The INOAC International Education and Scholarship Foundation holds get-togethers more frequently than other scholarship foundations, and I feel that this is one of the great points of the Foundation. Realizing once again the excellence of the INOAC Foundation, which respects encounters and ties between people, I feel sincerely grateful that I have had the chance to meet many people in my life in Japan as an international student.

At the get-together in which I participated, some directors of the Foundation shared their memories of studying abroad, while others commented that they always continued to try something new even after their retirement from work. My conversations with such directors gave me enough courage and energy to overcome the worries that I had felt in my daily life away from my home country.
I look forward to talking with them once again in the future.
Ethnic cooking events :
Scholarship students are actively reflected and they play the major role when planning and organizing cooking event.
Research Presentations :
By presenting the results of the research they are conducting at their universities or graduate schools, scholarship students demonstrate their daily efforts.
33th Term scholarship student

Hao Han
Thank you very much for inviting me to the cooking event and the research presentation session as a 33rd term scholarship student of the INOAC International Education and Scholarship Foundation. I am very happy to have met the members of the Foundation.

At the cooking event, I enjoyed dishes of various countries. What I cooked was the most common homemade dish in China, stir-fried tomatoes and eggs. The dish is easy to prepare and has a good balance of taste and nutrition, making it very popular in China. The most impressive delicacy among the dishes I tasted was the coconut pudding. I think its sweetness makes it the best after-meal dessert. I also enjoyed many other handmade delicacies. I don't usually cook for myself, but thanks to this event, I was able to savor food from various countries. I am most thankful to the INOAC Foundation for organizing such a wonderful event.

After the cooking event, participants, including myself, made a presentation about their own research. Presentations made by former awardees of the scholarship, in particular, made me feel that I was still just a beginner in terms of research. Getting to know people who have come to Japan from different countries and have been working hard to make their dreams come true, I have been more motivated to do my best.

In closing, I would like to express my sincere gratitude to the INOAC Foundation for providing me with such a great opportunity. I have realized that the experience of coming into contact with different cultures and researches is making me grow even further. I am looking forward to seeing you again next time.


33th Term scholarship student

NGUYEN TUAN PHONG
I am Phong and studying in Hiroshima University – Deparment of Chemistryr. To me, this event not only brings great experiences but also gives to me happy moments with new friend come from many other countries.. We have different to cultural, diffirent to language but when I am here, I feel like this is a big family. We - people from different countries, have been cooking together, trying dishes from different countries.

There are dishes that I have tried for the first time, very very interesting. This is made a really great experience and very intersting. After cooking finished, every one was eating together and talk about the country, the people or the everyday problems of life talk about the country, the people or the everyday problems of life. About the food, Each country's food has its own unique flavor, but all are very tasty and have great taste, delicious .

Not only, I also set foot in the famous city around the world – Tokyo, a modern city. My first feeling when coming here was the bustle, so many many people. At night, I went for a walk around, the city got very lighted up beautifully , busy street many people passing. If I have the opportunity to come back here, I'd love to visit some famous places in Tokyo. This event not only gave me a great experience but also gave me good memories. I look forward to attending this great event again. Once againe, I would like sincerely to thank INOAC Scholarship foudation for giving me the chanceto study here and to participate in great events. Thanks to all international students of Inoac Scholarship and look forward to meeting and cooking with everyone .

I wish Inoac International Education and Scholarship foundation more and more development and wish all the best to you.
Sincerely yours,



31th Term scholarship student

LIU JING JING
Thank you very much for letting me participate in the cooking event held the other day. That event was the second gathering held by INOAC Foundation that I had attended since I became an INOAC scholarship student. At this event, members of the Foundation and the former awardees of the INOAC scholarship came to talk to me in a very kind and friendly way, and with such experience, deep in my heart I always have felt so grateful for being one of the INOAC scholarship students.
Through the cooking event this time, we the participants were able to fully experience food cultures of different countries while eating each other's delicious hand-made dishes and sharing each other's cooking experience and recipes. I had not eaten much German, Indonesian, or Vietnamese cuisine until then, and this event provided me with the first opportunity to taste some of these foods. I was particularly impressed with the rendang that Andri made, which had a nice coconut scent and were very tasty.
Unfortunately, the dish I cooked, the chicken wing tips stewed with Coke, did not win the Most Delicious Cuisine Award that day, yet it was a good experience for me since it was my first time cooking for 30 people. I would like to polish my cooking ability to win an award at the cooking event next year. At the research presentation session held following this cooking event, I listened to the presentations of the studies that are focused on various fields, and it was a great learning experience. I especially paid serious attention to the studies in the fields that are different from mine (since these were fields I usually do not deal with) and tried to broaden my perspective.
Then, I myself presented the research that I specialize in, a study comparing waka poems (classical Japanese poems) and Chinese poems. After my presentation, the board members of the Foundation asked me various interesting questions with regard to my research, and I would like to deeply thank them for that. I am definitely going to attend the next year's cooking event and presentation session as well.

30th Term

TANG HAOCHUN
It was a very valuable experience for me to participate in the cooking event and the meeting for research presentation. In the morning cooking event , scholarship students from various countries, including me, and directors and staff of the Foundation together cooked dishes from the students' countries. Working together, we enjoyed random conversations with each other. It was a lot of fun to have close communication in a friendly atmosphere with people from other countries with whom I rarely come in contact, and also with the staff of the Foundation. After cooking, we ate the dishes we had made, which reflected different cultures and eating habits. I had never seen such a great variety of dishes on the table all at once, and all were so delicious, too. I enjoyed both familiar and unfamiliar cuisines. I got some ideas from dishes that I would like to add to my cooking repertoire.

In the research presentation session in the afternoon, scholarship students expanded academic knowledge while giving and listening to various research presentations. Although I had always used English to make presentations at university and conferences, I took on the challenge of giving my presentation in Japanese for the first time. I was a bit nervous, but in the end had a positive experience. Since the students gathering for the session came from a wide range of research fields, many of their presentation topics were new to me. Some were even beyond anything I could have imagined. Inspired by such presentations, I confirmed my determination to devote myself to my original studies.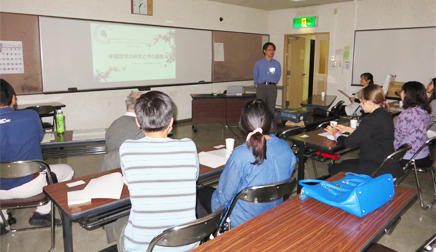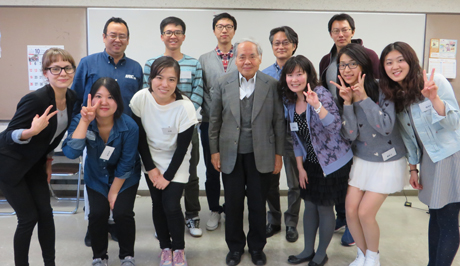 27th Term

Yang Tingting
At a research presentation, while presenting the research that I was performing at my university, I briefly explained my specialized field. The event, at which participants asked each other many questions and exchanged related information, served as a good opportunity to have enjoyable discussions and share knowledge regardless of their specialized fields.
The research presentation has made me aware of once again that there are no borders in terms of knowledge.

As a university student of sociology, I always try to observe both ordinary and extraordinary phenomena, thereby identifying and solving problems. When trying to identify problems, however, if I conduct research with a single focus on the identification of problems, I face the risk of overly narrowing my perspective. When I was in the third-year, I made a social survey on elderly people's awareness of death. Since death is quite a taboo subject, it was difficult for me to ask them about this. In addition to this, there were many other difficulties regarding this project, making me hesitate to select a survey of elderly people as the main part of my graduate thesis. After attending the research presentation of the INOAC Foundation, however, I felt more confident in pursuing this theme without any hesitation. This was thanks to the positive effects of other scholarship students of the Foundation. For example, one such student is researching how to form a chemical element that has never existed before. Since he is trying to create a production method that nobody knows, there are no reference materials for him and there are so many things that he cannot understand. Nevertheless, he says that he is carrying out experiments in a laboratory almost every day. I am deeply impressed by his courage and fortitude. Like him, I now also believe that if I do not give up, I will be able to achieve great results.